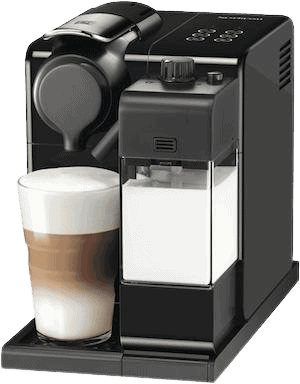 Our score after analysing 3 expert reviews and hundreds of user reviews.
Summary:
The Nespresso Lattissima Touch is ideal for coffee-lovers who are in a rush but don't want to compromise on quality. It is an automatic cappuccino system that makes a range of coffees including espresso and milky lattes at the touch of a button. The Lattissima Touch makes great-tasting drinks but does come with a slightly higher price tag than other options.
---
Key Specifications:
| | |
| --- | --- |
| Input Power | 1400 |
| Pump Pressure | 19 Bar |
| Water Tank Size | 0.9L |
| Shot Functions | Cappuccino, Latte, Macchiato, Espresso, Lungo |
| Milk Frother | Yes |
| Capsules | Nespresso |
| Warranty | 2 Years |
---
Product Overview
The Lattissima Touch is a high-quality Nespresso machine that has an integrated automatic milk frother. It has a 0.9-litre water capacity and a large 350ml milk container so multiple drinks can be made before a refill is required, which is something smaller models such as the Lattissima One lack.
Coffee enthusiasts will be pleased to hear the Nespresso Lattissima Touch offers an optimal water pressure of 19 bar to create cups of coffee that are free from imperfections. Its one-touch operation makes this one of the easiest coffee machines to use and it offers a range of drinks including espresso, lungo, cappuccino, latte macchiato and hot milk.
The fast warm-up time of 25 seconds makes it ideal for anyone that's strapped for time. Another handy feature is the machine automatically turns itself off after 9 minutes so it doesn't matter if you forget to power it down before you leave the house.
The Lattissima Touch has a sleek profile making it suitable for all home kitchens as it won't take up too much space on a countertop.
RELATED: Lattissima One vs Touch vs Pro
---
Video Preview
---
Summary Analysis of 3 x Expert Reviews
The Nespresso Lattissima Touch is a convenient espresso-based machine that requires very little manual input to make quality cups of coffee. It uses capsules, runs quietly and is a great time-saver.
Although the coffee amount is programmable, the machine doesn't have a screen which makes it a bit more difficult to make the adjustments you want. If you choose not to customise this, the machine has a standard setting it uses.
The design of the Nespresso Lattissima is modern and sleek, it looks tidy and there's a couple of colours to choose from. The empty capsule compartment can hold up to 9 capsules so it doesn't need to be cleaned out too frequently.
The integrated milk frother has an adjustable arm so it can work with all cup sizes. The milk froth level can also be adjusted to suit your personal preference. The frother itself needs to be cleaned after each use but there is a cleaning button that can be held down that makes this quick and easy.
Pros:
Easy to use
25 second heat up time 
Milk froth level is adjustable
Well made
Quiet operation
Cons:
Coffee spout drips occasionally after use
Capsules can get stuck in the machine
High price tag
---
Lattissima One Review Analysis
Design and Construction (8/10)
The Lattissima Touch is a sleek and compact option that takes up very little space. The water container sits at the back of the machine and is easy to clip in and out (providing the lid of the water container is open). The cup stand and drip tray are on a sliding mechanism so can be stored out of the way when using larger cups or latte glasses. There is no screen on this machine which would come in handy when it comes to programming the preferred amount of coffee.
Taste & Temperature (6/10)
One of the great things about the Lattissima Touch is the range of drinks you can make. The flavour produced by the pod capsules is good but not quite what you would get from an espresso machine. Coffees are served at around the 60 degree C mark which is not quite as hot as most coffee is served at but is still a good drinking temperature.
Ease of Use (7/10)
The Lattissima Touch is an ideal no-fuss touch and go machine. It is incredibly user-friendly and is very easy to set up. The machine takes 25 seconds to warm up and you can still press your desired drink while it is setting up and the machine will remember your selection and make it once the warm up is complete.
You can program the amount of coffee the machine makes with the espresso and lungo settings and once you've set it once the machine will remember and make your drinks to this specification next time. The downside to this espresso machine is that it does drip a small amount after use and the milk frother needs to be cleaned after every use.
Milk Frothing (7/10)
The integrated milk frother automatically steams milk for your chosen drink. It requires no manual input, just make sure there's enough milk in the container and the adjustable arm is positioned over the cup and the machine will do the rest.
You can also choose the level of aeration in the milk by moving the rotary dial on the milk container. The container can hold up to 350ml of the milk of your choice which is enough to make multiple coffees before a refill is required.
Cleaning & Maintenance (7/10)
Cleaning is also straightforward with the Lattissima Touch, it has a button that activates the milk frother clean meaning it takes just a few seconds to clean this in between drinks. On the top of the machine are indicator lights that let you know when cleaning and descaling are required.
Once you've made all your coffees and you're done with the machine for the day the milk container needs to be taken apart and washed either by hand or in the dishwasher.
This capsule machine is a low maintenance model. You only need to clear out the empty capsule container every 9 drinks which isn't bad compared to other options.
---
Other Products to Consider