When talking to a coffee enthusiast "the most important piece of equipment is a good grinder", is an expression you hear a lot.
With this in mind, the entry-level espresso coffee grinder market has been put under a microscope by home coffee lovers to find a well-rounded coffee grinder at an accessible price point, that will sit tidily next to their coffee machine at home.
After using the flagship Breville coffee grinder for over a year, it felt like the time that I put together a Breville Smart Grinder Pro review, and share my thoughts and feelings on one of the most popular home coffee grinders on the market.
RELATED: The Best Coffee Grinders (Buying Guide)
Getting Started With The Smart Grinder Pro
The Smart Grinder Pro is the leading coffee grinder from home kitchen appliance giants, Breville.
Its user-friendly design holds an LCD screen 'information centre' that brings together all essential information needed to grind great coffee to one place.
It has a 40mm stainless steel conical burr set and can be easily customised towards pretty much any size espresso machine or any other style of coffee brewing.
It is ideal for anyone looking for an easy-to-use grinder to pair up with their home espresso machine.
The hopper holds close to half a kilo of beans and it can grind anything from French-press to espresso, and everything in between.
The stepped adjustments make recording grind settings a lot easier, so you can quickly put the grinder back to where it was after cleaning without any fuss. If you want to use this grinder for all styles of coffee brewing you will regularly have to take extra steps when adjusting the burrs to match the brew style you're looking for, which whilst not always ideal, Breville makes all the steps very easy.
Out of the box
Other than the Smart Grinder itself, you will receive a cleaning brush and three attachments that allow you to customise the grinder to suit your brewing method.
This includes two portafilter cradles, one for a full-sized 58mm portafilter, the other for 54mm and under.
There's also a sealable dosing cup that you can keep your fresh grounds in before pouring them into a French press or any other brewing equipment.
The Breville Smart Grinder Pro has the look and feel of a modern coffee grinder. You don't often find digital screens on home grinders, but the buttons and dials that adjust settings are pretty straight forward.
Before using this coffee grinder, take a minute to look over the grinder before throwing beans into the hopper. Press all the buttons, turn all the dials and get a good feel of how it works.
If you're not intending to use the Smart Grinder Pro for espresso, I would recommend moving the adjustable upper burr to its most coarse setting.
The grinder is set up on a medium default setting of '6' but moving it to '10' will give you a better range to dial-in other brew methods like Cold Brew, v60 or Chemex.
Who Is This Grinder For?
It can be a challenge to find an espresso grinder that offers consistency in grind size within a reasonable price range, so if you're looking for high-quality home equipment, a step or two under prosumer gear, then the Breville Smart Grinder Pro could be the answer.
Those looking for a premium level grinder, however, are going to have to keep looking.
The Breville Smart Grinder Pro has quite a small set of stainless steel conical burrs and can take up to 20 seconds to grind a full double shot for an espresso.
The Smart Grinder Pro is a massive step up from a simple blade grinder and sits comfortably at the quality-focused level of entry-level burr grinders. It also boasts several key features that make it stand out from its major burr grinder competitors, like the Baratza Encore.
RELATED: Baratza Encore vs Breville Smart Grinder Pro
Key Features
Design
The Smart Grinder Pro is perfectly on-brand alongside all of the Breville coffee machine range and there are up to 8 colour options available.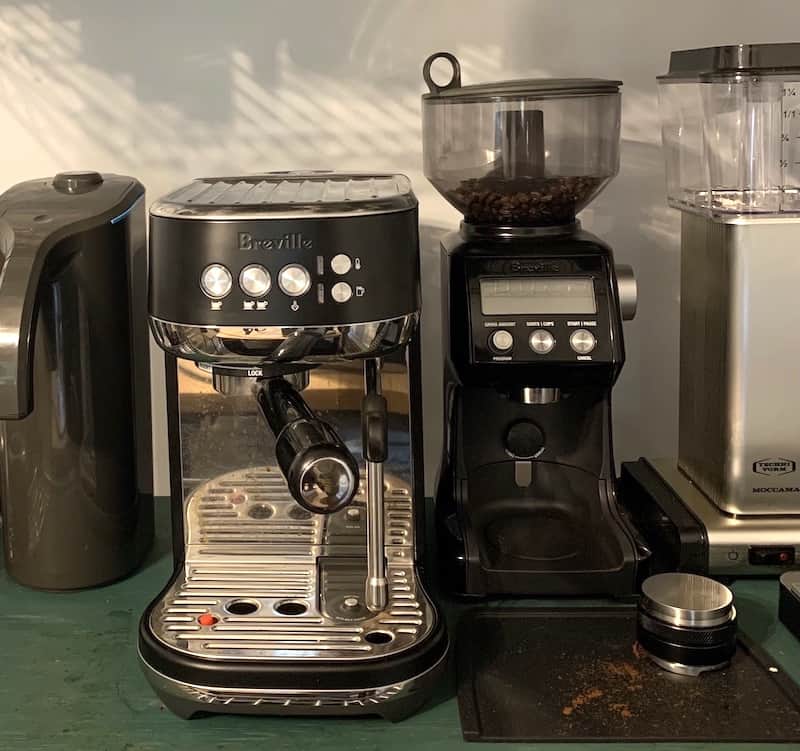 The Breville grinder is a pretty average size for a home appliance, not taking up any more room than your average kitchen blender. Everything is very tidy and every detail has been carefully thought out.
Having two stop-start buttons, one on the front face under the digital screen and one where you push in the portafilter really shows that Breville understands the features their customers are looking for.
Breville has added a button between the 'Grind Amount' and 'Stop/Start' button, to give roughly the right amount of coffee that is needed per cup you are brewing.
The 'shots/cups' button toggles through preset grind time that will roughly give you as much coffee as you need based on how many shots or cups you want to make. You can then make minor adjustments to get the exact amount of coffee needed.
RELATED: Sunbeam Cafe Series EM0700 Vs Breville Smart Grinder Pro
Build Quality
I have been using The Smart Grinder Pro as my regular grinder for over a year now and have had no problems with it at all.
The unit itself feels solid even though it's not as heavy as other grinders. The plastic parts don't feel cheap at all, and the way the interchangeable parts click into place via magnets feels high end.
Ease of Use
Being able to change what you grind directly into is one of the best features of this grinder. Having the option of grinding straight into your portafilter with fixed portafilter holders is great for espresso lovers, but then you can also grind directly into a paper filter if you would like and comes equipped with a grinding chamber if you need to transport your ground coffee from one space to another.
Grinding
The grind adjustments are made very easy on the Smart Grinder Pro. The whole grinder is set out to help educate the user on what you need to think about when grinding coffee.
The Smart Grinder Pro has a set of 40mm, stainless steel conical burrs and has a total of 60 adjustable steps available. 60 being the most coarse and the 1 being the finest.
The consistency of coffee grounds produced from the Breville Smart Grinder Pro is excellent.
Coarse or fine, you will receive a consistent grind size that will make brewing coffee beans easily repeatable to get great flavours every time you use it.
The dosing spout is very well aligned with where the portafilter sits and you can easily lock in the portafilter without the need to hold it whilst the coffee is grinding, and if you use the adjustable grind time feature properly you'll be able to get the right amount of coffee in your portafilter every single time.
One detail that I see as being good and bad at the same time is the number of grind settings that the grinder offers. 60 settings is quite a lot, which is good as they allow you to make really small adjustments to get the most out of the coffee beans you're brewing with. However, the additional settings you can access by removing and adjusting the top burr give the grinder provide a range far bigger than most people need. If the only two styles of coffee I make are v60 and espresso, I will have to keep changing back and forth the burr alignment to get the best out of both methods.
The Smart Grinder Pro arrives on its default burr setting which is great for espresso but doesn't go coarse enough for v60 or any other pour-over method.
With espresso brewing, it is very easy to only require minor adjustments when changing to different beans. You should only have to adjust the grind setting by one or two marks finer or coarser to get the grind size you're looking for, as long as you keep the amount of coffee you use the same.
LCD Display Screen
The LCD screen is a nice touch, providing all the information we need in one place. This lets you finely tune the timing and grind size of your coffee, and the ability to create and save personal profiles is a cool feature.
Its display screen lets us know the two key pieces of information needed when making an espresso with the grind setting displayed on the far right of the LCD screen and the grind time on the far left.
On the LCD screen, you will find suggested usage zones that line up with the grind setting you are using, either coarse or fine. French press, percolator, drip and espresso are clearly displayed along the line to help the user find the right adjustment range before grinding any coffee.  
Cleaning
Maintenance and cleaning are other areas that Breville has managed to get right in all of their espresso equipment. It is incredibly easy to remove the hopper and put it back in place, as is the upper burr.
Using the brush that is supplied in the box, brushing away excess grounds couldn't be simpler and is all that's really needed to keep the grinder healthy.
"If you are using dark roast beans, you may want to run through some grinder cleaner once in a while to to keep the burrs nice and healthy. "
Smart Features
The Smart Grinder Pro has preprogrammed settings that measure roughly how much coffee is needed per cup of coffee you are brewing. These settings can be refined with the 'grind amount' adjustment and saved, giving you your own personal settings that suit the way you brew coffee.
The dosing IQ adjusts the amount of time the grinder grinds depending on how fine the grind size is.
Finer grind sizes take longer to get to a set amount of coffee as the space between the blades on the burrs restricts the movement of the beans going through them, creating a fine grind.
Value for Money
You will be hard pushed to find a home espresso grinder that delivers consistent results like the Smart Grinder Pro in the same price range. Top-level espresso grinders often retail for as much as a commercial level home espresso machine.
The results you can achieve when using the Smart Grinder are very good. If you're looking for a great entry-level espresso grinder, I can't think of much better than this, especially for the price range it sits in.
Alternatives
Baratza Encore
The Baratza Encore is a fantastic entry-level grinder, for everything but espresso. It creates a very good grind size consistency but lacks the ability to meet the fineness requirements to dial in high-quality espresso.
Read our full Baratza Encore review.
Rancilio Rocky
The Rancilio Rocky could be seen as the next level up from the Breville Smart Grinder Pro. It is equipped with a close to commercial-sized 50mm stainless steel flat burr set and has a more powerful motor, which will give a more uniform grind size as well as a larger range of grind settings without the need to adjust the burrs.
Sunbeam EM0480 Coffee Grinder
Sunbeam keeps up their great range of products with their conical burr grinder.
For the price it is available for, a lot of people wouldn't expect much, but if you want something that does the job for a very affordable price, there aren't many grinders that can compete here.
RELATED: Sunbeam EM0440 vs EM0480 Grinders
Verdict
I have personally had no problems using the Breville Smart Grinder Pro and have found it a great addition to my coffee setup. The range of grind setting available should be able to suit most users, and the 'smart features' can take some of the needless waste out of the coffee-making process, which can quickly occur if you're not giving your full attention.
Its simple clean design and ease-of-use make it a winner in my books. Commercial level grinders require the removal of screws and bolts to get to the burrs inside and then the realignment process can be a whole other journey altogether. Breville has taken away all of these worries.
In summary, the Smart Grinder Pro would look good on any kitchen counter and can deliver results fantastic results, especially for the price.
Review Summary
Smart Grinder Pro
The Smart Grinder Pro provides a level of consistency and versatility other entry-level grinders can't. It excels with medium, fine, and extra-fine grinds, and is perfect for regular espresso users.
Product SKU: BCG820BSS
Product Brand: Breville
Product In-Stock: InStock