Breville has built its reputation on offering customers high-quality home kitchen appliances at an affordable price point.
Their espresso machines offer users various features to make the brewing process as easy as possible and to get the most flavour from any coffee beans being used.
In this review, we look closer at one of their popular mid-range semi-automatic coffee makers, the Breville Infuser, to see how it shapes up next to the rest of the Breville espresso machine family.
Who is the Breville Infuser for?
The Breville Infuser (BES840 in Australia, BES840XL in the USA) is a midrange home espresso maker, enticing potential users with its balance of features and affordability.
It is a well designed and engineered stainless steel machine with a robust build and is fully capable of producing a great cup of coffee.
This machine would be ideal for someone wanting to 'level up' from their starter espresso maker, looking for additional adjustable settings to finely tune and craft a more intricate level of flavour from their coffee beans.
If someone is looking for an all in one espresso maker with an integrated grinder, this obviously isn't the best option. Breville has other espresso machines in a similar price range, such as the Barista Express, that would be more suitable.
However, our general recommendation is that, if possible, people start off with a separate grinder and espresso machine. This set-up allows for more precise fine-tuning of grind settings, and lets you upgrade the grinder as you progress on your espresso journey.
Getting Started with the Infuser
The Infuser has a 1.8-litre water reservoir and comes equipped with Breville's standard range of essential extras including the Razor trimming tool, single wall and double wall filter baskets (2 sizes of pressurised and two sizes of non-pressurised), coffee scoop, stainless steel milk jug, cleaning supplies and water filter.
The cleverly designed holder found in the machine's drip tray can store many of these accessories.
On the front of the espresso machine, you will find the pressure gauge and four buttons; Power, Program, Single shot and Double shot volumetric.
Once the correct grind size is found for the coffee, the program button allows users to adjust the two volumetric control buttons to the desirable espresso ratio, letting you adjust pre-infusion time as well as the brew temperature.
The precision steam wand is free to move around 360 degrees, allowing you to find the perfect angle for high-quality milk frothing, which is crucial for anyone wanting to produce latte art.
This is an easy to clean machine and has a maintenance light that will let you know when it needs to be serviced.
The top of the espresso machine is also designed for cup warming to help keep your shot of espresso nice and hot.
Features and Benefits
The Infuser houses several of Breville's key, signature functions that help bring a great user experience and assist in delivering consistency and quality in every shot of espresso.
Thermocoil Heating System
The Infuser uses Breville's Thermocoil heating system to deliver 15 Bars of pump pressure. The heating system is responsible for delivering hot water for both espresso extraction and the steam wand, so these functions can't be used simultaneously.
Low-Pressure Pre-infusion
The pre-infusion function releases low-pressure hot water to help prepare the coffee bed by settling the ground coffee into the coffee basket before applying the machine's 15 bar of pressure.
This feature minimises the possibility of creating channels in the ground coffee, which can lead to under extraction.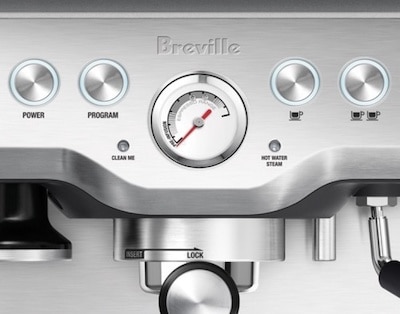 Espresso Pressure Gauge
The pressure gauge allows users to monitor pressure throughout the espresso extraction process. Correct pressure is critical for creating high-quality espresso and is a good way to identify if there are any problems in your process (e.g. grind size or tamping pressure).
At the start of extraction, the gauge will be positioned in the pre-infusion zone, then should move to the middle zone during extraction (when full pressure is applied).
Adjustable Extraction Temperature
Adjustable brew temperatures allow users to finely tune the machine's settings to the coffee beans they are using. Dark roasted beans generally extract better at lower temperatures, whereas lighter roasts require higher ones.
PID Temperature control
Precision water temperature control means that the machine can deliver exact temperatures to the coffee grounds when extracting espresso, creating a more even extraction which helps balance the flavours in your cup.
Auto Purge Function
The auto-purge function helps control the internal pressure and temperature of boiler and manual steam wand, allowing the espresso machine to stay at a more stable level, creating more consistency when going from brewing espresso to milk texturing.
Dedicated Hot Water Function
The small hot water spout found just to the left of the manual steam wand allows users to top up their espresso shot in their cup with hot water and turn a simple espresso into a Long Black or an Americano without the need for boiling the kettle.
What do users say about the Breville Infuser?
The Infuser is a well-loved model in the Breville range. Its ease of use, paired with quality-focused features and affordability, have made it very popular with home espresso enthusiasts.
Users have found that the Infuser is a great machine to learn about making coffee. Once over the slight learning curve, users can produce a cup of coffee that competes with a cafe's quality, and the pressure gauge lets you know exactly when the machine is ready to get the best out of your beans.
Users have, however, also experienced a few problems with this coffee machine. Firstly, there seems to be an inconsistency in how long the machine will last, with some customers experiencing mechanical issues within a couple of years of regular use.
Secondly, the water refuse tank placement, found within the removable drip tray, is located towards the back of the appliance, making it hard to monitor how full it is getting after making each cup of coffee.
Is the Breville Infuser Right for you?
The Breville Infuser is best paired with a user who wants to learn about the world of espresso and is prepared to embark on a bit of a learning process. It includes features and functions that allow users to fine-tune their process and work on creating the perfect cup of coffee.
Pros:
Features like PID Temperature Control and Pre-infusion help the user consistently brew better coffee.
Programmable volumetric settings.
Adjustable water temperature for precision brewing allows you to tailor the settings to your favourite style of coffee beans.
The Infuser is a well priced entry-level coffee maker.
Cons:
Requires a grinder to be purchased separately.
The drip tray seems to have a bit of a design flaw; without monitoring how full it is, spills and leaks can quickly arise.
Alternatives
The Bambino Plus has many desirable qualities you would want from an affordable espresso machine, condensed down into a nice compact unit.
Users may want to choose the Bambino Plus over the Breville Infuser for the following reasons:
The unit takes up less counter space.
For the price, the Bambino Plus has a lot of Breville's premium espresso machine features, like rapid heat up that comes with its Thermojet heating system.
Auto Milk Texturing for hands-off microfoam milk.
The Sunbeam Cafe Series is another popular mid-range machine.
You may want to choose the EM7000 over Infuser for the following reasons:
Its' sleek design is an attractive alternative to Breville's classic style.
The twin thermoblock heating system allows no wait time between making espresso and using the steam wand for milk frothing, which offers similar qualities to a dual boiler espresso machine.
The milk heat gauge helps users to achieve their desired milk temperature every time.
The Sunbeam EM7000 has a full-sized 58mm group head.
The Barista Express is Breville's entry-level answer to a semi-automatic espresso machine with a fully integrated burr grinder.
You may want to choose this machine over the Infuser for the following reasons:
If you want to make espresso straight out of the box, the Barista Express only needs the addition of power, water and coffee beans.
The integrated grinder takes the hassle out of purchasing one separately whilst also being more cost-efficient. There is around a $200 difference between the Barista Express and the Infuser, while Breville's premium espresso grinder costs close to $400.
Comparison Table
The Infuser sits in between the Barista Express and Bambino Plus in Breville's home coffee machine line-up. Check out the key differences in the table below.
| | | | |
| --- | --- | --- | --- |
| | the Barista Express | the Infuser | the Bambino Plus |
| Link to Instruction book | BES870 | BES840 | BES500 |
| RRP | $999 | $799 | $649 |
| Check Price | The Good Guys | The Good Guys | The Good Guys |
| Heating System | Thermocoil | Thermocoil | Thermojet |
| Power | 1850 Watts | 1650 Watts | 1600 Watts |
| Dimensions | 33.8 x 31.3 x 40.7 cm (WxDxH) | 25.7 x 31.2 x 33.4 cm (WxDxH) | 19.5 x 32 x 31 cm (WxDxH) |
| Pre Infusion | Yes | Yes | Yes |
| PID Temperature Control | Yes | Yes | Yes |
| Espresso Pressure Gauge | Yes | Yes | No |
| Water Tank Size | 2L | 1.8L | 1.9L |
| Integrated Grinder | Yes | No | No |
| Rapid Heat Up | No | No | Yes |
| Programmable Shot Temp | Yes | Yes | No |
| Auto Milk Texturing | No | No | Yes |
| Saved Coffee Settings | 2 | 2 | 2 |
| Dry Puck Feature | Yes | Yes | No |
| Warranty | 1 Year | 1 Year | 2 Years |
Conclusion
Overall, the Infuser is another excellent entry-level, single boiler coffee machine from Breville.
For the price, it would be hard to find a better coffee machine.
You may not get the full range of precision settings featured on Breville's premium range of espresso machines, like the Dual Boiler or the Oracle, but with adjustable temperature, programmable volumetric control, quality steam wand and pre-infusion functions, the Breville Infuser has all of the tools to make a fantastic cup of coffee.
The obvious competitor in the Breville line-up is the Bambino Plus, which lacks the pressure gauge but features a faster heating system and auto milk texturing.
The drawback compared to most other options from the Breville coffee machine range would be its lack of grinder. Still, for espresso-making alone, the Infuser offers more than enough to get the most out of any bag of coffee.
Review Summary
the Infuser
The Infuser is a well-loved model in the Breville range. Its ease of use, paired with quality-focused features and affordability, have made it very popular with home espresso enthusiasts.
Product SKU: BES840
Product Currency: AUD
Product Price: $799
Product In-Stock: InStock