For a long time, there has been a big gap in the market between the convenience offered by fully-automatic machines and the more quality-focussed home espresso machine.
The first delivers on ease-of-use with bean-to-cup functionality but is often lacking in terms of taste and customisability. The latter is able to produce cafe-quality espresso at home, but usually involves a big learning curve, a hands-on brewing process, and a lot of problem solving.
Breville have recently introduced two new machines, the Barista Touch and the Oracle Touch, that effectively bridge the gap between these two types of home coffee machine.
In this review we take a closer look at the Breville Barista Touch, analysing its key features and comparing it to similar home espresso makers currently on the market.
Who is the Breville Barista Touch for?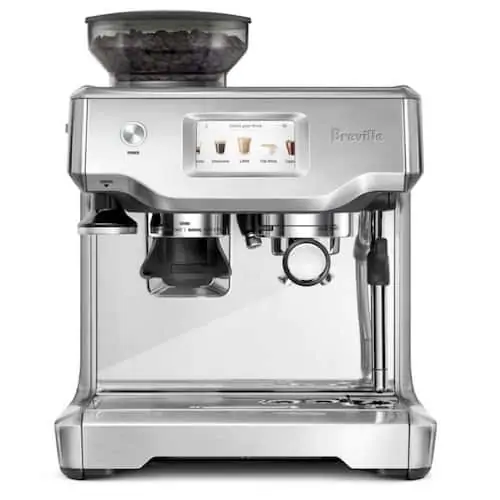 The Barista Touch is the perfect solution for users who want to make high quality espresso based drinks but don't want to go too far down the rabbit hole of espresso brewing.
This machine has a lot of smart features that reduce the likelihood of common espresso problems such as over and under extraction, or channelling.
Those with smaller kitchen spaces will appreciate the all-in-one design of this machine (no need for a separate grinder) along with its fairly compact build.
It is also a great options for large or busy households, with Breville's ThermoJet heating system getting the machine up to optimum extraction temperature in just 3 seconds, and the intuitive touch-screen user interface providing access for to up 8 saved drinks.
Retailing for well over $1000, the Barista Express is less suited to those on a budget. With a bit of practice users would be able to produce similar quality coffee on more affordable machines like the Breville Barista Pro or Barista Express.
Likewise, if you are interested in learning the art of the barista, this machine isn't your best option as it automates certain functions that would be done manually on more traditional espresso machines.
Getting Started with the Barista Touch
Before turning on the machine users will need to insert the water filter into the water tank. This is a handy addition that means less build up within your coffee machine. Once the filter is in place, the tank can be filled with cold water.
You'll also need to load up the hopper with freshly roasted espresso beans. The hopper has a generous 250g and can be removed for cleaning or to assist with filling.
Users will then be guided through the set-up process on the colour touch screen. The machine will notify you once it is ready to be used.
We recommend first time users start with the "Guide" function that takes you step-by-step through the brewing process.
As with all Breville espresso machines, the Barista Touch comes with everything you need to get started with making coffee at home. This includes a milk jug, single and dual wall filter baskets (single and double shot for each), The Razor trimming tool, along with a variety of cleaning and testing tools such as cleaning tablets and descaling powder.
Features and Benefits
ThermoJet Heating System
If you don't like to wait around before your morning coffee, you may have met your match with the Barista Touch. The new Thermojet heating system on this machine is able to get up to temperature in an incredible 3 seconds. This is a stark contrast to the 10-15 minutes often required on traditional style espresso machines.
Note that while the machine is able to get to temperature very quickly, for optimal results it is recommended you allow other components of the machine, especially the portafilter, to also heat up before brewing.
Also, while the Thermojet System is in many ways considered superior to a traditional boiler system (such as those found on Breville's Dual Boiler or Oracle range), this machine still does only have one heating system. The single heating system means that both the steam wand and the espresso extraction process use the same heat source, so cannot be used at the same time.
Colour Touch Screen
The intuitive touch screen interface is one of the biggest selling points of the Barista Touch.
From here, users can access everything from grind and milk steaming settings to saved drinks to cleaning and trouble shooting information.
8 Saved Coffee Settings
There are a number of pre-set drinks available ranging from flat white to Americano to a serving of hot milk.
In addition, users can set up their own customised drink and save with their name for easy access.
In the drink set-up, you have the ability to set the number of espresso shots, milk temperature, and milk froth.
PID Temperature Control
This is a valuable feature commonly found on commercial espresso machines and serves the purpose of stabilising temperature.
This adds a level of precision to the espresso extraction process and contributes to more consistent results.
Pre Infusion
Low pressure pre infusion involves a small amount of hot water being released into the ground coffee at the start of the espresso extraction process.
This allows the grinds to expand slightly before the higher pressure is applied, reducing the chance of channelling (when water flows through a narrow path of ground coffee instead of flowing evenly through the entire coffee bed).
Integrated Grinder
The Breville Barista Touch has an integrated conical burr grinder that incorporates both automatic and manual features.
Once the portafilter is placed in the grinding cradle, you can press "Grind" on the touch screen to begin the grinding process. Your coffee beans will then be ground and dosed into your portafilter based on your pre-programmed grind settings.
The ability to adjust the both the volume and grind size means you are able to dial in the combination that works perfectly with your favourite coffee beans.
Another great thing about the grinding process is that it is mostly hands-free so the user is able to work on other tasks at the same time. The grinder will stop automatically once complete but the user does have the ability to stop the process before the end of the cycle if needed.
For users who wish to take more control, manual dosing is available. Simply push and hold the portafilter to start grinding, as you would with a regular coffee grinder.
Unlike with Breville's higher-end automatic machines, the tamping process is manual with the Barista Touch. Users will need to remove the portafilter and use the supplied tamper to firmly apply even pressure to the ground coffee before inserting it into the group head.
The bean hopper has a capacity of 250g and can be removed for refilling with beans or to access the burrs for adjustment or cleaning.
Shot Volume Control
Users have the ability to fully customise the shot volume on this machine.
Via the touch screen you have the option of preset 1 and 2 cup volumes or your own programmed volumes.
Users can also use manual over-ride to manually set the shot volume.
Single and dual wall filter baskets
The Barista Touch comes with both single and dual wall filter baskets.
Dual wall filter baskets, or pressurised baskets, are often used on domestic espresso machines to help regulate the pressure in the extraction process.
Pressurised baskets feature a single hole that that the espresso is forced through, allowing the build up of pressure within the filter basket. In a regular single wall basket, this pressure is generated by the compact bed of ground coffee beans and will only occur if the grind size and tamp pressure is correct.
Pressurised baskets are considered more forgiving and can help users achieve optimal results. Problems that can be mitigated include those arising from issues with grinding, dosing, tamping or the freshness of the coffee beans used. Dual wall filter baskets are often the easiest way for beginners to achieve a good crema on their espresso.
Both types of filter basket are included in both single and double shot sizes.
Auto Milk Texturing
This is an advanced feature that is not found on less automated machines like the Breville Dual Boiler, Barista Pro, or Barista Express, which all require manual milk steaming.
Auto Milk Texturing will be a big selling point for many people as the process of creating milk micro foam for their coffee is one that can take years to master and is often a point of frustration for home baristas.
Via the touch-screen settings on the Barista Touch, users can program the temperature and texture of milk that best suits their tastes.
A thermometer is located in the drip tray of the machine, underneath the steam wand. The Barista Touch uses the recorded milk temperature to determine how much steam to apply to the milk, and to stop the process when the desired temperature is reached.
The steam wand auto-purges after the steaming process, which flushes out any milk remaining inside the wand. This is usually a manual step on regular espresso machines and is one of the many ways the Barista Touch makes the brewing process more user-friendly.
What do users say about the Breville Barista Touch?
Users love that they have the ability to choose how involved they want to be in the brewing process. Most people find that once they get the grind settings dialled in for their preferred beans they are able to consistently make an excellent cup of coffee.
Positives
Quality of coffee is very good
Touch screen looks great and is easy to use
Three second heat up time
Ability to change and save settings is great for multiple users
Premium stainless steel finish
Grinder incorporated in unit is handy and makes it compact
Easy to clean
Auto milk texturing works well
Negatives
Not auto-tamp (as found on the Oracle Touch)
Not a double boiler so can't extract espresso and steam milk at the same time
Finding the perfect grind setting can take a bit of trial and error
No auto-on
Milk jug temperature sensor needs to be kept clean
Alternatives
The Barista Pro sits squarely between the Barista Express and the Barista Touch in Breville's line-up. Like the Touch, it features a Thermojet heating system and integrated grinder. It does, however, lack several premium and automatic functions such as the colour touch screen and automatic milk texturing.
Similar to the Barista Touch, the DeLonghi La Specialista Maestro features smart grinding technology, low pressure pre-infusion, and temperature control for precision brewing. While it lacks the touch screen of the Touch, the DeLonghi machine features a dual heating system and smart tamping station.
The Oracle Touch is Breville's premium home coffee machine. In addition to everything found on the Barista Touch, it also has auto-tamp, a double boiler, a commercial sized 58mm group head, auto-on, better temperature control, and a larger water tank.
Breville Coffee Machine Comparison Table
The Breville Barista Touch sits directly above the Barista Pro in Breville's line-up. In terms of price, the next step up is the Dual Boiler, however its closest competition in terms of features would be the Oracle or Oracle Touch which both also feature an integrated grinder.
| | | | | | |
| --- | --- | --- | --- | --- | --- |
| | the Oracle Touch | the Oracle | the Dual Boiler | the Barista Touch | the Barista Pro |
| Link to Instruction book | BES990 | BES980 | BES920 | BES880 | BES878 |
| RRP | $3,999 | $2,999 | $1,999 | $1,699 | $1,299 |
| Check Price | The Good Guys | The Good Guys | The Good Guys | The Good Guys | The Good Guys |
| Boilers | Dual | Dual | Dual | Single | Single |
| Heating System | Triple Heat System | Triple Heat System | Triple Heat System | Dual ThermoJet | Thermojet |
| Power | 2400 Watts | 2400 Watts | 2200 Watts | 1680 Watts | 1680 Watts |
| Dimensions | 39.2 x 37.3 x 45.4 cm (WxDxH) | 40.9 x 37.3 x 45.3 cm (WxDxH) | 35.8 x 37.1 x 37.3 | 32 x 41 x 32 cm (WxDxH) | 35 x 41 x 41 cm (WxDxH) |
| Auto Purge Function | Yes | Yes | No | Yes | Yes |
| Over Pressure Valve | Yes | Yes | Yes | No | No |
| Espresso Pressure Gauge | No | No | Yes | No | No |
| Water Tank Size | 2.5L | 2.5L | 2.5L | 2L | 2L |
| Integrated Grinder | Yes | Yes | No | Yes | Yes |
| Bean Hopper Capacity | 280g | 280g | n/a | 250g | 250g |
| Colour Touch Screen | Yes | No | No | Yes | No |
| Rapid Heat Up | No | No | No | Yes | Yes |
| Auto On | Yes | Yes | Yes | No | No |
| Auto Milk Texturing | Yes | Yes | No | Yes | No |
| Saved Coffee Settings | 8 | 2 | 2 | 8 | 2 |
| Dual Wall Filter Baskets | No | No | Yes | Yes | Yes |
| Portafilter Size | 58mm | 58mm | 58mm | 54mm | 54mm |
| Heated Group Head | Yes | Yes | Yes | No | No |
| Dry Puck Feature | No | No | Yes | Yes | Yes |
| Warranty | 2 Years | 2 Years | 2 Years | 2 Years | 2 Years |
Conclusion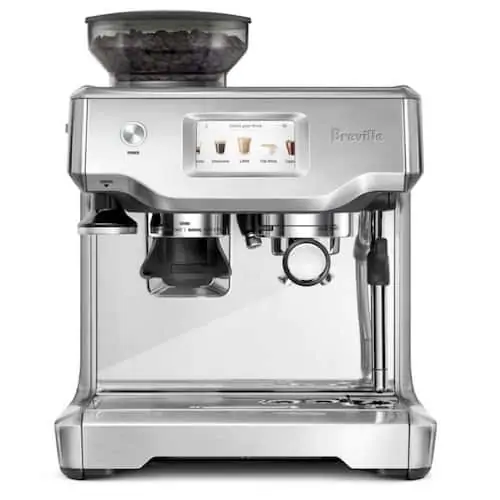 The Breville Barista Touch is a great option for those who are happy to have a little bit of involvement in the brewing process in order to get a great cup of coffee.
It allows users to customise various aspects of the grind, extraction, and milk steaming, to achieve a better result than possible with fully automatic machines.
Users can also save a number of favourites for quick access.
Overall, this is an excellent addition to the Breville line-up that bridges the gap between automatic and semi-automatic espresso machines. With a stylish stainless steel finish and sleek colour touch screen interface, it would make a great addition to any modern kitchen.
Review Summary
the Barista Touch
The Barista Touch is the perfect solution for users who want to make high quality espresso based drinks but don't want to go too far down the rabbit hole of espresso brewing.
Product SKU: BES880
Product Brand: Breville
Product Currency: AUD
Product Price: 1,699
Product In-Stock: InStock