Bialetti Moka
Reliable, iconic design, affordable, and made in Italy.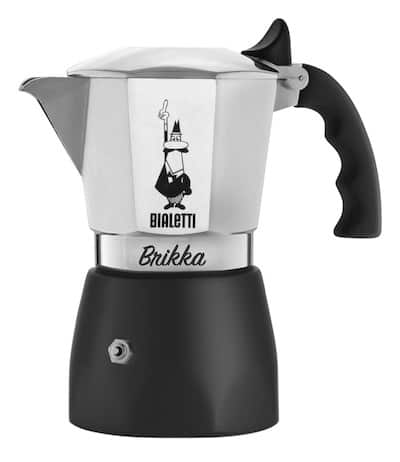 Bialetti Brikka
Extra features and more pressure for a thicker crema (and higher price tag).
Bialetti is an Italian icon when it comes to stovetop coffee brewing. Their products are known for being durable, stylish and easy to use. Of course, the Brikka and the Moka Express both tick all of these boxes, so why choose one over the other?
The two models look very similar and are used in exactly the same way but there are a few differences in their features that result in coffee that tastes and looks slightly different.
This guide takes a look at the Brikka and Moka Express side by side so you can decide which one is best for you.
RELATED: The Best Stove Top Coffee Makers
Key Similarities
Capacity
Both these Bialetti models come in a range of sizes to suit your needs. We are comparing the 2 cup version of these pots but there are 4 cup, 6 cup and even 12 cup versions available (the Brikka is only available in 2 cup and 4 cup sizes). The 2 cup model of each has a capacity of just under 100 ml so you'll get a shot of around 90ml of coffee.
Stylish, durable design
The design of these two Bialetti pots is very similar. They are both made from aluminium (check out the Bialetti Venus if you prefer stainless steel) and have that traditional moka pot look. They are stylish, practical and iconic. Both stand the test of time in their durability and classic style. In our opinion, either model will look great on a kitchen counter now and for many years to come.
Portable
Both of these stove top coffee makers are compact, simplistic and have just a few pieces that attach together with ease. As they are made from aluminium you can pack them into a bag without worrying about them being damaged or breaking during the journey. Their sturdiness and small size make them both ideal options for making coffee on the go.
Easy To Clean
As they both have just a few individual pieces, they are easy to clean after use. You simply unscrew the top and the bottom, remove the coffee grinds and rinse all parts of the pot with warm water. Both models are hand wash only but a simple rinse with water is usually enough to get any marks and coffee residue off so it shouldn't be a time-consuming task. As the moka pot gets hot it's important to wait for it to cool before cleaning it. Note that you can also remove the aluminium filter and rubber gasket for cleaning but generally these can stay in place between uses.
Use Medium-Fine Ground Coffee
The traditional design means both these pots should be used with coffee beans that are ground to a medium-fine grind (see our Moka Pot Grind Size guide). Some people grind the beans to a fine grind but a slightly coarser grind usually works better with these machines. They both have a filter basket that should be loosely filled with the coffee before attaching the top and bottom sections.
Suitable for all hobs (except induction)
Both of these models are stove top designs that can be used on all hobs with the exception of induction hobs. Using a hob gives control over how hot the coffee maker gets and lets you make full-bodied coffee in just a few minutes. Being able to use the pots on most hobs gives users versatility as well as the ability to use the moka pots to make delicious coffee when camping or away from home.
Safety Pressure Valve
Both models have a safety valve located on the water chamber to ensure excessive pressure does not build up when making an espresso. This is an important feature, particularly if you haven't used a stove coffee maker before and are unsure about the right timings and heat levels.
Key Differences
Origin
The Bialetti Moka Express is designed and made in Italy. It is the original moka pot coffee maker and has been available since 1933. It is considered synonymous with "made in Italy" and is known for producing espresso at home. This history and background have made the Express a bit of an icon and people love that they are still being made in Italy. The Brikka, however, is made in Romania.
Espresso Crema
The Brikka features an additional column with a silicone membrane, this helps to create a full-bodied cup of coffee with crema. Home brewed stovetop espressos often lack this layer of foam which is what sets the Brikka apart from the competition. Its unique design means coffee made with the Brikka has a richer layer of this sought-after crema foam.
Dual Valve System
The Brikka uses a unique dual pressure valve system, this helps to regulate the water pressure to produce a smoother, richer espresso. The Brikka also has an open lid design that allows air to circulate into the valve to produce better results.
Added weight
Another difference between the Brikka and the Express is that the Brikka has additional weight at the top of the spout. This added weight helps increase the amount of pressure while brewing, this also plays a role in creating the crema foam.
Speed
The Brikka brews coffee quicker, taking around 3 – 4 minutes to make an espresso. It is faster due to the higher pressure and dual valve system. The other model only takes slightly longer than this (4-5 minutes) but it is worth noting so you know what you can expect from the model you choose.
Size and weight
The Moka Express 2 cup is 25cm x 20cm x 15cm and weighs 400g while the Brikka 2 cup is 14cm x 10cm x 17cm and weighs 450g. As you can see, both models are compact and lightweight. They won't take up much space on a worktop, they look great and they are small enough that they can be heated up on a small flame which is perfect for use with a camping stove.
Style
When you look at the Brikka and the Express side by side there are a few style differences. The handles are shaped differently and the Moka Express has a full lid with a nub you can use to lift the top without getting burned. It also has a complete aluminium body while the brewer on the Brikka is larger, rounder and has a black finish. The Brikka handle feels more natural to hold and it has a conveniently positioned nub at the top of the handle that can be pushed to open the lid.
Price
There is a price difference between the two models. At the time of writing, the classic Moka Express will set you back $44 making it excellent value for money. The Brikka costs a bit more at just over $100. The higher price tag is due to the additional features seen on the Brikka and its ability to produce crema (something you don't get as easily with other moka pots).
RELATED: The Best Coffee Percolator
Making Your Selection
Bialetti Moka
Reliable, iconic design, affordable, and made in Italy.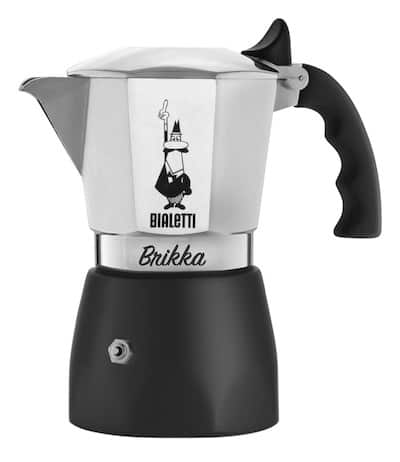 Bialetti Brikka
Extra features and more pressure for a thicker crema (and higher price tag).
The main difference between the Bialetti Brikka and the Bialetti Moka Express is the extra features that the Brikka has to produce a bit more pressure and a thicker crema. The coffee takes less time to brew and it has a strong, authentic taste.
If you're not too worried about the extra features and getting espresso with a thick layer of crema on the top, you will probably find the Moka Express has everything you need. This model keeps things classic, it gives you everything you need from a standard stovetop espresso. It doesn't offer quite as much pressure but doesn't take much more time than the Brikka to produce a couple of cups of great coffee. This is a low-cost, high-quality option that still tastes great.