For pod and capsule coffee machine lovers, the cost of disposable capsules can add up over time. While disposable pods are convenient and easy, they're not sustainable for the planet, or for your wallet in the long run. As pod and capsule coffee makers have grown in popularity, so has the market for reusable coffee pods.
While reusable pods are a cost-efficient and eco-friendly alternative to disposable pods, it's important to know which brand makes products compatible with your machine. Likewise, with such a variety of reusable pods on the market, it's important to know what pods will provide the best value for your money.
We've compiled a list of some of our favourite reusable pods on the market to help you find the best reusable coffee capsules available for your pod machine.
The Pod Star reusable stainless steel coffee capsule is a great capsule alternative for Nespresso pod machines. This Australian-owned small business provides a zero-waste alternative. Made from medical-grade stainless steel and a silicone ring, these reusable capsules provide a durable pod that is easy to clean and refill.
With the addition of the silicone ring to the stainless steel body, the Pod Star capsules eliminate the need to purchase and replace sealing stickers. These reuseable capsules come in packs of two, which makes it easier to make a double shot or make coffee for two people. Users simply fill the capsule to the top with their favourite blend, tamp firmly, and place the capsule directly into the machine. When finished, Pod Star used grounds can be composted or thrown directly into a garden!
The Pod Star capsules are not compatible with the new Nespresso Vertuo machines, nor Aldi, Cafltaly or Dolce Gusto machines. Likewise, these refillable pods work best with a fine to medium grind. If the coffee grounds are too coarse, water will pass through too quickly. Likewise, if grounds are too fine, water will have trouble passing through the capsule.
Pros:
Dishwasher safe (without O-ring)
Australian-owned
Silicone O ring eliminates sealing stickers
Cons:
Not compatible with newer Nespresso models
Only works well with fine-medium grind
The Recaps stainless steel refillable Nespresso pods combine the sustainable presences of durable stainless steel capsules with a reusable seal sticker technology. This product comes equipped with three refillable pods, yellow silicone spare replacements for the green rings on the pods, and 120 FDA safe seals. Each pod is guaranteed to last 10 years if maintained.
The Recap pod model is specifically designed to be shorter than the original Nespresso capsule in height to avoid damaging the blade plate in the machine. As a result, users need to be careful when inserting the capsule into their pod machine. The altered dimensions of this capsule make it incompatible with certain Nespresso machines. An added convenience for users is that each package comes with a metal tamper, and a coffee scoop to help measure the perfect amount of ground coffee.
While users love this model for its eco-friendly appeal, many users have suggested that the instructions for use leave many questions. There is some trial and error required for tamping. Users need to be mindful of grind size to eliminate diluted espresso. The rings allow the pressure necessary to create a similar crema to the original Nespresso capsule. Users have mentioned that this capsule leaks excess water during brewing.
Pros:
Crema produced is similar to regular pods
Silicone ring and foil seals
Tamper and cleaning brush provided
Cons:
Instructions for use require clarity
Shorter height makes this model less compatible
Occasional leaking water is present
The SealPod reusable coffee capsules help reduce the number of single-use capsules accumulating in a landfill. This product comes equipped with two stainless reusable coffee pods, 2 fresh covers, 102 espresso sticker lids, and a coffee scoop to help with portions. All SealPod Nespresso capsules are manufactured in a cruelty-free environment and are entirely vegan.
SealPods stainless steel coffee pods are easy to clean by rinsing with water after each use. Users can simply fill their reusable capsules with their favourite coffee, tea, or hot chocolate, tamp before sealing with a sticker lid, and the coffee pod is ready to brew! The seal stickers allow for enough pressure to build within the Nespresso capsule, creating the perfect coffee consistency and flavour.
While these Nespresso capsules are advertised as zero-waste, users will be throwing out seal stickers after a single-use. Users have the option of purchasing replacement seal stickers in aluminium or paper. Likewise, these capsules do not come with replacement rings.
Pros:
Vegan and cruelty-free
Compatible with most Nespresso capsule machines
Paper and aluminium seal lids available
Cons:
Seal lids will need to be replaced
Does not come with spare sealing rings
The Califas stainless steel reusable Nespresso pods are the perfect pick for users looking to enjoy rich espresso with crema, while also keeping single-use pods away from a landfill. This product is suitable for Nespresso's original line capsules, which increases its compatibility with certain coffee makers.
Crema is an essential part of a quality cup of espresso. This reusable capsule is specifically designed to produce a rich cup of coffee with crema, no matter the grind size or type of coffee packed into the pod. Each package comes with two reusable coffee pods made of 18/8 stainless steel and one steel lid with a rubberized ring to reduce friction between the capsule and coffeemaker. A measuring spoon and brush are also provided for easy portioning and cleaning.
While this product is specifically engineered to produce crema, some users struggled with finding the right ground coffee consistency, fill level, and tamping to create the pressure and crema finish they were looking for. This coffee capsule holds less coffee than the original disposable capsule, and may not produce a cup of coffee strong enough to the user's liking.
Pros:
Zero-waste
Can last for up to 10 years
Suitable for most Nespresso original line capsule machines
Cons:
Fails to deliver consistent pressure
Contain less coffee than original Nespresso pods
Higher-end of the price spectrum
The Recaps Nescafe Dolce Gusto reusable coffee pods are the perfect companion for users looking for a sustainable option for their coffee machine. Since many reusable capsules are not suitable for the Dolce Gusto model, this three-pack of reusable pods allows users to ditch the single-use pods for good.
Made entirely of food-grade material, the Recaps Nescafe capsules are 100% BPA free and recyclable. Each package comes with three refillable espresso pods, a spoon, and a brush for easy cleaning. These plastic capsules are designed to include a water injection feature, which allows water to fully soak grounds inside the capsule. Likewise, each capsule is outfitted with a stainless steel filter mesh to eliminate any and all sediment from reaching your cup.
Like any refillable coffee capsule, some trial and error are required to find the perfect balance between fill level, grind size, and tamping. Some users have suggested instructions for recommended fill levels are unclear with this product. While the recommended grind is anywhere from medium to espresso fine, the lid on this model struggles to handle the pressure build-up. Since the Recap Nescafe capsules are made from a less durable material, they are unlikely to last as long as their stainless steel competition.
Pros:
Pairs well with all Nescafe Dolce Gusto machines
100% BPA Free
Lightweight and easy to clean
Cons:
Plastic lid struggles to handle pressure build-up
Likely won't last as long as metal alternatives
Not suitable for Starbucks models, Nespresso models, or the Dolce Gusto EDG355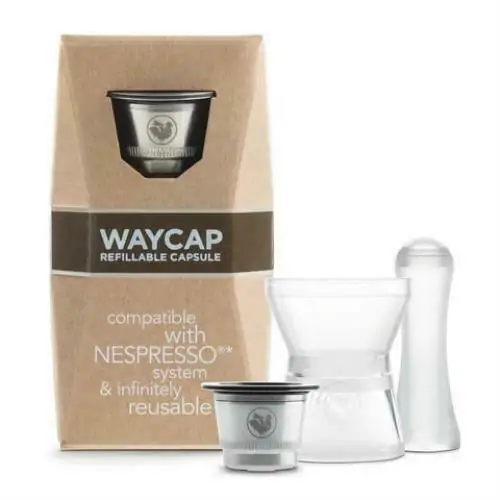 The Waycap reusable Nespresso capsules are a versatile brand many users love to consider when looking for eco-friendly alternatives to coffee pods. Made in Italy, users can purchase a single capsule package or a two-pack of refillable Nespresso pods. Made entirely of stainless steel, these capsules are durable and easy to clean after every use. With no additional lids, filters, or packaging for each pod, this product is entirely zero-waste.
The Waycap reusable capsules work in most Nespresso machines and include a screw-top lid in order to maintain ideal consistency over coffee extraction. With each capsule, the purchase comes a manual coffee dispenser, additional filter tops, o-ring seals, and a tamper. All pieces needed for these reusable Nespresso capsules fit easily within the manual coffee dispenser, making a practical and waste-free carrying case.
The Waycap reusable coffee pods have two primary models for users to purchase: The Nespresso capsules, and the Dolce Gusto capsules. With the versatility and engineering behind these capsules, they are more pricey than some other reusable coffee pods. Users have discussed the difficulty in finding the optimum grind, fill level, and tamp pressure, but this trial and error are required for all users to tailor the product to their coffee needs.
Pros:
Single pack and two pack buying options
Nespresso and Dolce Gusto capsule options
Screw top lid for consistent extraction
Cons:
Higher-end of the price spectrum
Trial and error is required with tamping and fill levels
The Asun refillable stainless steel coffee pods are an environment-friendly alternative suitable for most Nespresso machines made after 2003. These durable capsules are made entirely of food-grade stainless steel with an o-ring seal. They are rust-proof, anti-corrosive, and designed to last for years at a time.
Each package contains one capsule, a scoop that doubles as a tamper, and a top. With the addition of a snap-on metal top, users don't have to worry about the additional cost of sticker seals, or the added refuse that comes with using a capsule with that feature. Asun recommends a fine grind to achieve optimum results and a light tamping to ensure water can pass through the capsule. After each use, simply empty the grounds into the garbage or compost bin, rinse, and you're ready to brew another cup!
While the Asun refillable coffee pod is reasonable in price and helps users save money, each package only consists of a single pod. For users working with more than one person, or wanting to brew a double shot of espresso, you'd have to buy two or clean the capsule between brews. Users have mentioned that the filtration isn't consistent enough for strong coffee. Some of this has to do with grind size and tamping, but with any reusable pod, some trial and error are needed to obtain the perfect result for each user.
Pros:
Rustproof and anti-corrosive
Rubberized o-ring included
No sticker seals needed
Cons:
Only one reusable pod in each package
Filtration isn't consistent and can result in weak coffee
Trial and error is required for your perfect result
Reusable Coffee Pod Buying Guide
With a rise in demand for green living and the extreme convenience of capsule and pod coffee machines, reusable coffee pods are growing in popularity. Many different brands, styles, and features exist within the market for reusable espresso capsules, and it can be difficult to determine what to look for in the best quality capsule.
We've compiled a short buying guide containing some helpful context with reusable capsule models on the market in hopes to better focus your search. While this green alternative is known for saving users money in pod purchases and keeping pods from accumulating in landfills, knowing which works best for your taste can be overwhelming without help.
Material matters
For starters, the material each pod and capsule model is constructed from is important when thinking about the durability and consistency of your morning espresso. Most refillable capsules are constructed from two primary materials: steel or BPA free plastic. With anything, there are pros and cons to either selection. We'll discuss some of these below:
Plastic pods
For users looking for an entry-level pathway into refillable coffee pods, this lighter material is easier on the wallet and is the perfect test device to see if this green alternative really works for you. While this material is lighter in weight and creates a consistency similar to the one-time-use capsules, they do not last as long as their metal counterparts. Likewise, with less heat resistance, these capsules are subject to warping and expanding to a size larger than the machine in use.
Stainless steel pods
Metal capsules, while running a bit pricier on the cost spectrum, give users the longevity and stability needed to completely convert from one-time-use pods. With the proper maintenance, these capsules are able to last a lifetime, but most brands advertise a 10-year minimum shelf life.
For users looking to completely cut out excess refuse, metal capsules work well with your morning routine. Users do have to be mindful of options for capsule tops to be truly refuse-free though. Some metal capsules come with snap-on or screw-on lids, while others demand aluminium or paper seal stickers that need to be disposed of after one use. Depending on your commitment level to staying green, some of these options may better suit your needs than others.
Coffee maker compatibility
Another hurdle most capsule and pod users will face when looking to transition to reusable models is finding a capsule that works with their coffee maker. While there is a surplus of refillable pods on the market, each pod is designed to work for a handful of machines and models. Depending on the model you have, your search for reusable pods may be more difficult than others.
When looking for a refillable capsule option, be sure to check the compatibility with the maker you have in your kitchen. What you don't want to experience is purchasing a product that ultimately doesn't work with your machine.
Crema and consistency
Consistency in delivering a solid cup of espresso is important for most coffee lovers. With the materials present in refillable capsules, users will experience different textures in their espresso than with a traditional espresso machine or one-time-use pod. Likewise, users will experience different capabilities for producing crema with refillable pods as well. Depending on your personal preferences, certain textures and crema consistencies will suit you more than others.
If a layer of crema is essential to your espresso shot, there are specific brands of refillable pods on the market engineered to produce crema with each use. Depending on the material, crema is more easily obtained during brewing in some models than others. If texture and crema are dealbreakers for your morning routine, be sure that the capsule product you're choosing is designed for crema.
To Wrap Up
The overall goal for refillable coffee pods is to save users money, save the planet, and brew quality espresso all in one. With any innovation, some experimentation is required to tailor the product to work perfectly for your brewing preference and taste.
We hope this buying guide sheds some light on some of our favourite refillable Nespresso capsules on the market, as well as some helpful things to consider when picking out the brand that is best for you.