Italian coffee culture is probably the most significant driving force behind the popularity of our favourite caffeinated beverage.
Along with their iconic dark roast style, cappuccinos and cafe culture, Italy has a long history of coffee machine production, with the first espresso machine being invented in Turin in 1884.
In this post, we take a closer look at our favourite espresso machines from the best Italian manufacturers to help provide inspiration for your search. We also discuss what features may appeal to classic espresso coffee lovers so you have an idea of what to look out for when comparing products.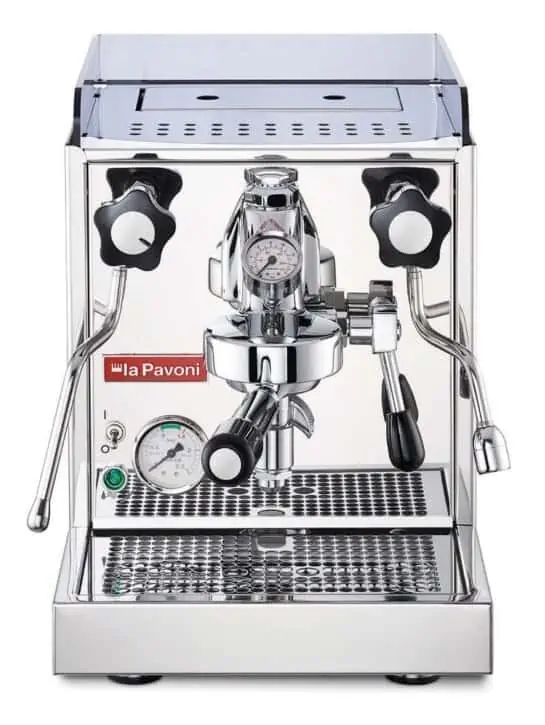 The La Pavoni Cellini is a semi-professional espresso maker that offers the user an all-around classic espresso preparation experience.
This stainless steel espresso maker has many quality-focused features including a 1.8-litre copper boiler, transversal heat exchanger, two pressure gauges (one for espresso and one for steaming milk), and automatic electronic control over the 2.9-litre tank and hot water levels.
The Cellini is a manual espresso machine, which means that the user controls each area of the machine by simply opening and closing the valves, so additional equipment may be needed if you are looking for consistent accuracy when brewing espresso.
Nuova Simonelli is a well-recognised manufacturer of Italian coffee machines.
The Oscar II is a great coffee machine capable of producing high-quality espresso. It offers a modern style and easy to use controls with a semi-automatic espresso set-up.
Programmable single and double shots, including pre-infusion, means that users can set their espresso parameters, press a button and let the machine do the rest.
The machine is ergonomically designed, with an angled portafilter handle, simplified steam control and extra-long steam wand, making the machine very smooth to use.
At 40cm high and 30cm wide, the Oscar II is a compact machine but still houses a large 2-litre boiler and a 2.8-litre water reservoir.
Leaning more towards the lower end of the market, the Gaggia Classic Pro espresso machine is seen by many as the best entry-level machine for making espresso at home.
It is capable of producing a very high standard of espresso-based drinks at an approachable price point. With its upgraded commercial style steam wand, the Classic Pro is a perfectly simple manual espresso machine.
This machine is a great, affordable step into full-sized 58mm portafilter espresso machines, but could be found to be a little lightweight in structure compared to some of the prosumer gear on the market.
One advantage to investing in a lower priced machine is that users can keep enough in their budget for a good quality grinder, which can really bump up the quality when making espresso.
The Appartamento is one of Rocket's most iconic espresso machines. It achieves quality results whilst taking up minimal counter space.
Its insulated 1.8-litre brass and copper plated boiler work with a classic heat exchanger that allows the user to brew and steam milk at the same time.
The classic open/close valve control allows for mechanical pre-infusion helping to raise the quality and consistency of the coffee being made, while also featuring cool touch steam and water wands.
The Expobar Barista Minore IV is a compact domestic espresso machine that has the capabilities of handling the demand of numerous users throughout the day.
It has dual copper boilers, one that feeds the EB-61 commercial group and is controlled by a digital PID, helping to bring a stable temperature when brewing espresso, and the other for high quality milk steaming.
The machine can deliver consistent pressure and temperature when delivering multiple shots of espresso and frothing milk for a cappuccino or flat white at the same time.
For the price, the Rancilio Silvia espresso machine is one of the best value espresso makers available on the market.
Equipped with commercial-grade features like a brass group head, signature 58mm portafilter and precision steam wand, the Silvia V6 offers coffee lovers an espresso machine that is able to produce coffee shop level espresso drinks at an approachable price point.
The machine has a 2-litre water tank that feeds into a small 300ml boiler. This ensures quick heat up and temperature stability whilst allowing the unit to take up minimal counter space.
Rancilio has released two versions of the Silvia V6; the 'E', which shuts off the power when idle for 30 minutes, and the 'M' that requires the user to shut the power off manually.
De'Longhi's PrimaDonna Soul is a fully automatic Italian espresso machine that offers the user a minimal effort answer to quality coffee preparation.
It holds several features that help to get the most out of your favourite coffee beans, with an integrated coffee grinder and brewing system designed to produce high-quality coffee with minimal effort.
This fully automatic espresso machine features De'Longhi's 'bean adapt technology' that intuitively adjusts its grinder settings to suit the style of coffee beans being used, whilst also offering a range of preset recipes to produce a range of popular Italian drinks, from espresso to cappuccino.
The Wifi connectivity on this espresso maker adds to its ease of use and allows you to adjust the machine's settings through the dedicated app, and its user-friendly touch screen display gives modern gadget lovers everything they could want from a fully automatic coffee maker.
The PrimaDonna Soul coffee machine has been designed to be cleaned with incredible ease. All removable parts can be put in the dishwasher and an automated cleaning cycle helps to flush out any old ground coffee after making an espresso shot.
Made in Italy, the Wega Commercial Coffee Machine is a robust semi-automatic espresso machine that is suitable for high-end home use or in a small commercial setting.
It has four programmable volumetric buttons and two manual brew buttons to accommodate various ways of brewing great coffee, a stainless steel milk wand and hot water dispenser.
LED lighting helps to illuminate the drip tray allowing the user to closely monitor the quality of the espresso coffee being prepared.
The De'Longhi Dedica is the cheapest coffee machine on our list and can be found on thousands of kitchen counters around the world.
As an entry-level semi-automatic espresso machine, this coffee maker won't reach the quality offered by the very best Italian machines featured here, but with its stylish, compact 15cm wide design, 51mm portafilter and 40-second heat-up time, it is the perfect first step into classic Italian coffee at home.
The wand on this machine is not designed to produce sleek, latte art style milk, but if you're just looking for something to make a cappuccino with a lot of froth on top, this is a great option to consider.
With this kind of home espresso maker, you are able to achieve good results when paired with a lower quality grinder, compared to most of the high-end machines we have listed.
Pressurised coffee baskets help to minimise channelling that can occur without precise grind sizes and can accommodate pre-ground coffee better than non pressurised baskets.
The La Pavoni Expo 2015 Lever is probably the most classic and stylish Italian espresso machine we are featuring on this list.
Traditionally, lever-style valve control was commonplace on an Italian espresso machine, but the call from modern espresso coffee lovers' for consistent pressure levels when making coffee has seen lever coffee machines become less common, even if there is a certain kind of romance with this style of set-up.
La Pavoni has barely changed the design of this coffee machine over the last 60 years. Made in Italy, this updated model has an attractive brass accent and a pressure gauge to ensure the user knows when the machine is ready to brew.
This model of coffee machine has been known to last for decades and will instantly become a focal point where ever it is placed.
The Lelit Victoria is an Italian espresso machine built with functionality and simplicity as its key features.
On the front of the espresso machine, you will find an easily adjustable brew temperature control on a high-resolution LCD screen as well as a pressure gauge.
Like the Rancilio Silvia V6, the Lelit Victoria has a large (2.7 litre) water reservoir feeding a smaller 250ml brass boiler, which helps to quickly heat the machine and create a stable brew temperature.
This compact machine has managed to squeeze in a full-sized 58mm portafilter with adjustable pre-infusion, giving its users full control over their brewing recipe.
The La Marzocco Linea Mini is a coffee connoisseur's dream home machine, and can easily handle the stress of a professional setting if called upon.
Manufactured by possibly the biggest name in commercial-grade espresso machines, the Linea Mini offers the same build quality and brew capabilities as any other of the machines available from the company.
The unit has a dual boiler system that helps with temperature stability and consistent pressure when brewing and steaming milk simultaneously, which helps speed up the time between using the grinder and drinking a cappuccino.
The Linea Mini is a top of the line manual coffee machine for home use.
It uses a side-to-side moving paddle to open and close the valve, similar to the classic lever systems on other classic machines made in Italy, but with even more control over the pressure applied.
This type of valve control allows for low-pressure, mechanical pre-infusion that helps to settle the ground coffee being used for an espresso shot.
Italian Coffee Machine FAQ
Where is Lelit manufactured?
Lelit espresso machines are designed and made in Italy, just outside of Brescia. 
Is Lelit a good brand?
Lelit is one of the best brands at their price point and is known for its robust design and quality-focused components. Lelit produces espresso machines that compete with most other high-quality home espresso machine manufacturers.
What is the difference between Gaggia Classic and Classic Pro?
Apart from the price, the biggest difference between the two machines is the milk wand, with the Classic Pro espresso machine offering a commercial-style wand for milk steaming.
Who makes Expobar espresso machines?
Expobar is a brand found under the Crem International umbrella. Their espresso machines are manufactured in Spain.
How long do La Pavoni espresso machines last?
La Pavoni has built its reputation on long-serving reliable machinery.
There are many users still brewing coffee on their lever controlled Italian espresso machines built in the 1960s and 1970s.
Why is La Marzocco so expensive?
La Marzocco machines are viewed as one of, if not the best espresso machine manufacturer in the world. Their machines are incredibly robust and offer some of the best quality available on the market. 
When was Rancilio Silvia Pro released?
The Rancilio Silvia espresso machine was released in July 2020.
Are Rocket espresso machines worth it?
Rocket produces very good espresso machines that can achieve professional-level results. With the right care and attention, Rocket espresso machines will serve you for a very long time.