While many coffee enthusiasts will tell you a separate grinder is the way to go for home espresso, there are also clear advantages of the all-in-one option.
In addition to the obvious benefit of having only one extra appliance on your kitchen bench, buyers will usually get more bang for their buck when opting for an espresso machine with a built in grinder.
To help you in your search for the best espresso set-up for your home, we've rounded up the best all-in-one coffee machines on the market and assessed them against a range of key metrics such as ease-of-use, features, and price.
The Breville Barista Express is a hybrid grinder and espresso machine that is equipped with automatic and manual options. This coffee maker allows users to grind beans right before the extraction process, ensuring maximum freshness and allowing you to enjoy barista quality coffee at home.
The versatile Barista Express pairs convenience and efficiency with quality coffee at a reasonable price point, making it a great choice for most people.
The Barista Express integrates a conical burr grinder with dose-control and over 18 available grind settings. This machine is known to grind fresh coffee beans to espresso-fine in under a minute. The dosing control technology allows the machine to grind coffee directly into a portafilter for a smooth transition from grinding to brewing.
The Digital Temperature control (PID) feature helps maintain temperature stability of the group head, and throughout the brewing process for optimal espresso extraction.
The Barista Express includes other additional features to maximize the user experience. Some examples include the pressure gauge to assist with the extraction process and a high-performance steam wand that allows you to hand texture micro-foam milk.
The Barista Express displays all brew and grind settings on the face of the machine. The adjustable grind size dial and doser is displayed on the left-hand side of the machine, while all espresso configurations can be found on the right. Users have the options to select single or double shot options easily, as well as receive a notification if the machine needs to be cleaned.
Likewise, the "Filter Size" button allows users to choose between to 1 cup or 2 cup option. The single basket filter is used for the 1 cup option, while the dual basket is used with the 2-cup option.
RELATED: Breville Barista Express Review
If you can afford the upgrade or will be brewing more than one cup at a time, we recommend choosing the Barista Pro over the Express.
This espresso machine features Breville's Thermojet heating system, which delivers a faster warm-up time and a quicker transition from steaming to brewing. This means you can brew more coffees in a shorter amount of time than with the Barista Express.
Here are the main reasons to go with the Barista Pro over the Barista Express:
Smaller steps in between grind settings allowing for finer tuning of grind size.
Thermojet means a faster warm-up time and quicker transition from steaming to brewing. This is especially important if you intend to make more than one coffee at a time.
Steam pressure is better so milk texturing is quicker.
Digital display provides real-time access to important grinding, extraction and cleaning information. The display also makes setting up your machine and dialling in the perfect espresso much easier.
This machine features a 2-litre water tank and an integrated grinder with a generous 250-gram bean hopper. A cup warmer sits atop the machine, which can be used to warm and store espresso cups.
The Barista Pro comes with single and dual wall filter baskets in single and double shot sizes, a Razor precision dose trimming tool, and a 480ml stainless steel milk jug.
It is also easy to clean, with a removable drip tray, cleaning kit, and water filter included. It also has cleaning reminders and a signal for when the removable drip tray needs to be emptied.
The LCD display and straightforward interface make it simple to operate the grinder and set the machine to brew the perfect cup of coffee every time. The steam dial on the right side of the machine allows users to simply operate the manual milk frother.
RELATED: Breville Barista Pro Review
The Sunbeam Barista Max espresso machine is a popular mid-range home coffee machine with a built in grinder. This machine is ideal for those searching for a low-cost all-in-one coffee maker.
The Barista Max features a three-way temperature control system. This combines the Thermoblock quick heat-up time with gentle pre-infusion for even coffee extraction and an innovative PID controller for constant brewing temperatures. All three of these features operate in tandem to ensure that users can consistently make quality coffee that is devoid of bitterness and flaws.
This coffee maker has an impressive 2.8-litre water tank and a 250-gram bean hopper. Tall mugs and glasses are easily accommodated in the working space while a removable drip tray, grill, and grind bin/knock box are also all included.
The Sunbeam EM5300 is designed to make switching between steps in the brewing process simple. The integrated grinder is located on the machine's left, a commercial-sized group head is located in the machine's centre, and a manual milk frother is located on the machine's right.
Sunbeam's Tap & Go grinding technology is used in the Barista Max espresso machine. This function enables easy, on-demand grinding, adding convenience to the brewing process. Users simply select the desired grind size in the hopper, press the button, and watch as the ground coffee fills the group handle to the desired level.
During the grinding process, the Sunbeam Barista Max espresso machine has ingenious features such as an illuminated grind area. Similarly, a special grinding cradle allows the portafilter to rest while being filled, making it easier to fill each filter basket.
RELATED: Sunbeam Barista Max Review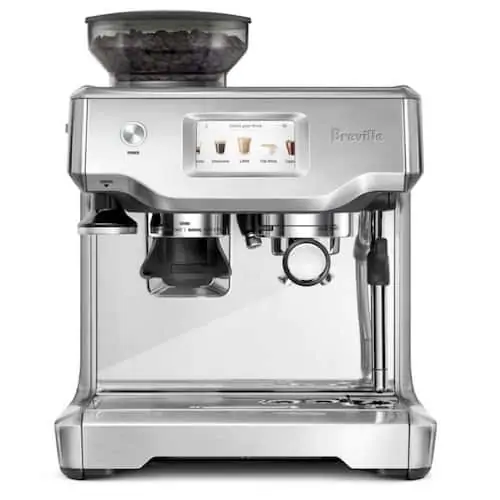 The Breville Barista Touch has many of the same functions as the Barista Express and Pro, but it also has a touch screen display.
The Barista Touch takes convenience to a new level by allowing users to adjust the coffee strength, milk texture, and temperature via the touch screen menu. Users may also save their brewing preferences to make coffee faster for busy mornings on the go.
This coffee machine incorporates this intuitive interface to allow customers to control all elements of the brewing process from grinding to steaming milk.
It also has an integrated burr grinder with automatic dosing. This feature means the grinding process is mostly hands-free so the user is able to work on other tasks at the same time. The grinder will stop automatically once the pre-set amount of coffee has been ground and dosed into the portafilter.
The Barista Touch features Breville's Thermojet heating system, which is able to get up to optimal espresso extraction temperature in an incredible 3 seconds. Gone are the days of waiting around for 15 minutes for your coffee machine to warm up!
The Barista Touch requires a greater financial commitment than the Barista Express or Barista Pro. This device may be a good option for users looking for a machine that bridges the gap between semi-automatic and fully automatic brewing.
RELATED: Breville Barista Touch Review
The Breville Oracle is a coffee machine that bridges the gap between semi-automatic and fully-automatic espresso machines. With the ability to provide automated and manual brew options, the Breville Oracle is designed to empower users to make great coffee, regardless of user experience. This machine is capable of producing quality espresso with the push of a button. With automatic grinding, dosing, tamping, and milk texturing settings, this machine is the perfect tool for those looking for an easy and efficient approach to cafe-quality coffee.
While the cost for this espresso maker is steep, the features provided and high calibre make it a worthwhile investment for at-home coffee making. What sets the Breville Oracle apart from most espresso makers is its ability to automate the two most difficult parts of the manual espresso process: dosing and steaming.
The Oracle includes a conical burr grinder that automatically grinds, doses, and tamps 22 grams of coffee right into a portafilter. The dual stainless steel boilers and heated group head is controlled by a digital temperature PID, so the Oracle ensures water is at the right temperature for maximum extraction. Users can extract espresso and run the steaming wand at the same time. The milk temperature and texture can be adjusted to better suit your taste
The Breville Oracle also includes an easy-to-navigate LCD display that allows users control over grinding, brewing, and steaming all in one spot. The machine pump is capable of maintaining 15 bar pressure, maintaining the ideal pressure for extraction to happen. The inclusion of a one-touch Americano feature also makes this coffee machine unique. With it, the Oracle delivers a double shot of espresso and fills the cup with hot water through a dedicated spout, just like any quality commercial machine.
While this machine includes a self-cleaning steam wand feature, the maintenance process can be quite extensive. Users will still need to wipe the steam wand down after every use, and when the machine indicates a clean-out is needed, the descaling process can take between 60-90 minutes. Likewise, this machine weighs around 35 pounds, making it a large machine for most home kitchens.
The Delonghi La Specialista pump coffee machine has similar features to the Breville Barista Pro, but at a more affordable price point. A built-in burr grinder, clever dosage control, and two independent heating systems for coffee and milk preparation are all included in one clever machine.
The La Specialista also has certain automated functions to help speed up the brewing process. A smart tamping station is included to improve tamping efficiency and consistency. By pressing a lever down on the machine, users can tamp directly into the portafilter. When the correct pressure is provided to the coffee grounds, the tamping will automatically stop.
A sophisticated latte system is exclusive to the Specialista. On the steam wand selection, users can choose between "flat" for hot milk and "foam" for milk foaming. After that, you simply need to place your milk jug under the steam wand and wait for the desired result.
The Delonghi La Specialista includes three pre-set recipes to chose an automatic brewing option, in addition to a few other automated capabilities. The "My Function" allows users to personalise and save recipes for later use.
This super-automatic espresso machine is the best upgrade buy for experienced coffee drinkers. While this coffee machine is a hefty investment when it comes to cost, The Breville Oracle Touch offers a high-tech approach to making espresso. Equipped with an automated touch screen operation, this espresso machine allows users total control over grind, coffee strength, temperature, and milk texture. Simply select your preferences, and save them under a unique name on the device. The Oracle touch can save up to 8 personal doses.
The Breville Oracle touch includes a conical burr grinder that automatically grinds, doses, and tamps 22 grams of coffee, similar to the commercial machines you see a barista use. Users can choose between 5 pre-saved coffee shop favourites including espresso, latte, and flat white.
This device is equipped with commercial-grade features such as dual boilers and heated group head, digital temperature control (DIP), Over Pressure Valve (OPV), and programmable milk frothing and temperature. By ensuring precise water temperature, the Breville Oracle Touch is efficient in producing a balanced and flavourful espresso shot every time.
The dual boiler system in the Breville Oracle Touch allows users to pull espresso shots and steam milk simultaneously. The self-cleaning steam wand automatically textures milk to your taste and preferred temperature, delivering barista quality micro-foam for latte art.
The Breville Oracle Touch is one of the best coffee machines users because it provides coffee drinkers with access to commercial-grade features without the stress of a semi-automatic or manual machine.
All of the convenience comes at a cost, though, and the price for one of these upgrade machines is steep, but it is accurate to the calibre and convenience the machine offers. Some users find the grinder unable to achieve the subtleties a separate pro-grade grinder would, but the grinder quality seems a fair trade-off for the other features the machine offers.
RELATED: Breville Oracle Touch Review
As the successor to the wildly popular PrimaDonna Elite, the Soul continues Delonghi's legacy of high-quality fully automatic coffee machines, and steps things up a notch from previous models.
An important feature of the Soul is the Delonghi's Bean Adapt Technology, which configures the coffee machine's settings based on the coffee bean you have selected. The machine will balance grind, dose, and infusion temperature, to ensure your coffee is created with a balanced profile and avoiding over or under extraction.
RELATED: The Best Automatic Coffee Machines
This is a super-automatic coffee machine that pairs intuitive brewing technology with convenience. Other features include a built-in grinder, attached milk frother, 4.3" LCD touch screen display, and Wifi smartphone connectivity.