The need for a coffee knock box only really becomes apparent when you don't have one. Running back and forth to the kitchen bin to knock out your used coffee grounds is less than an ideal situation. With so many available on the market in Australia, we take a closer look at some of the options for the best coffee knock box, to help you get a little more bang for your buck.
The Dreamfarm Grindenstein Coffee Knock Box is a very handy, classically designed knock box. Available in two sizes, the smaller of the two is the perfect size to sit nicely on your espresso machine's drip tray, which is great if you're a little short on space.
This espresso knock box offers steel bar shock absorption to help keep noise levels to a minimum, and its durable rubber sleeve fully protects the portafilter from any kind of damage from regular use.
The Dreamfarm Grindstein knock box comes in a choice of three finishes, black, red and stainless steel.
It is dishwasher safe and comes with a booklet that explains how you can repurpose your used coffee grounds as a natural fertiliser.
The Breville The Mini Knock Box is one of the only non-cylindrical shaped knock boxes we are looking at today.
Brought to you by the high-quality kitchen appliance pioneers Breville, this knock box is ideal for those who like to stay on brand across their espresso setup, adding this little bin for their coffee grinds next to their Breville coffee machine.
This little knock box has been designed to take a beating and could be well suited to a home barista who may not always know their own strength.
It comes in two finishes, black and stainless steel, and has a non-slip rubber grip on the bottom to make sure the bin stays in place after you have given it a good hit. Its removable design makes for easy disposal of coffee grounds as well as simple to clean.
The Rhinoware Thumpa Bombora Knock Tube is a heavy-duty, commercial-grade espresso knock box.
The large version, standing at 72cm tall, can be found being used by your favourite barista, and in coffee shops all around the world, due to its large capacity for used coffee grounds, as well as not taking up any valuable counter space.
The smaller Rhino Thumpa Bombora Knock Tube, sitting at a counter friendly height of 30cm, is a perfect size for personal use and is big enough to only require emptying every few days or so, as long as you don't mind the sweet scent of coffee in the air.
Rhino coffee gear is often seen as a reliable, quality supplier for all brewing related accessories, and the build quality of their durable plastic knock tube is no different.
The Avanti compact Knock Box comes in black, red and silver. Its thick and durable rubber bar helps to keep the noise level to a minimum.
This affordable, little espresso knock box does the job perfectly, especially if there is just one or two of you who drink espresso coffee regularly in the home, and can be stored on your espresso machine's drip tray if looking to save space.
Some customers have commented on how the size is small for some group handles, so this bit of kit is more suited to 53mm and under portafilter than the full-sized 58mm which comes with most a commercial size espresso machine.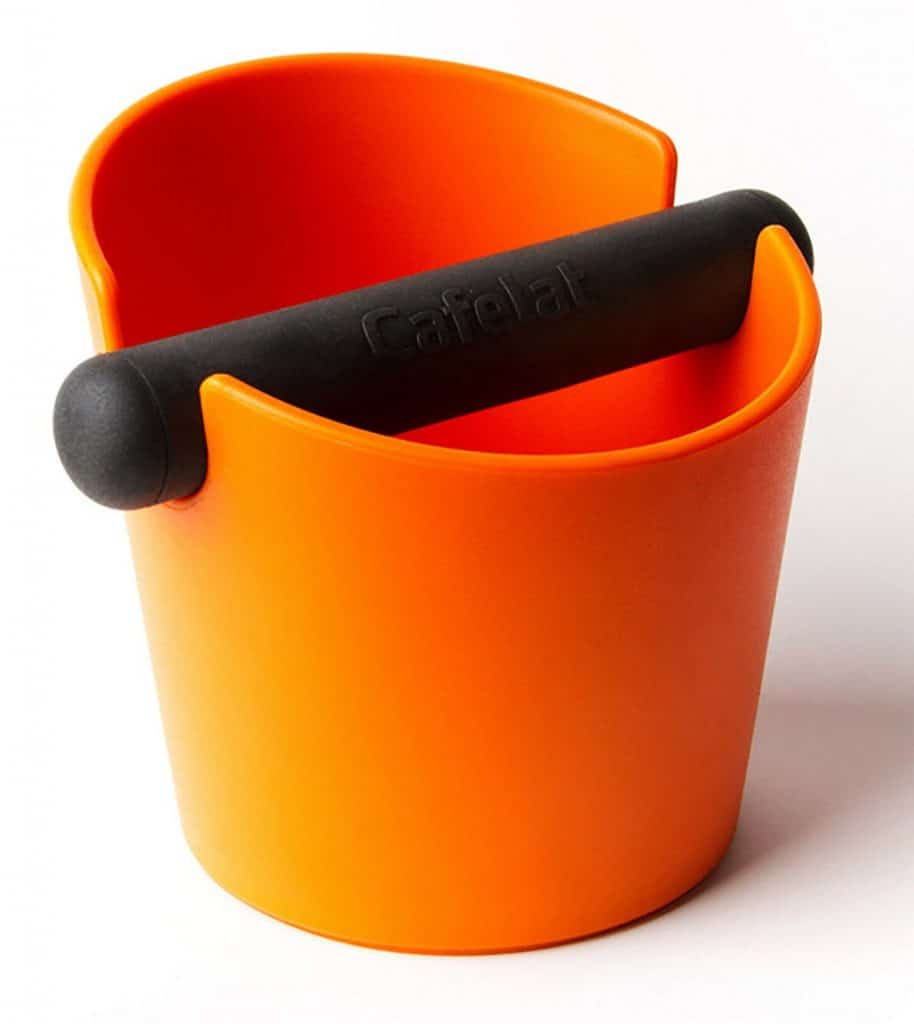 The Cafelat Tubbi knock box offers a little more when it comes to fun colours.
Available in classic black, light blue, red, and a bright yellow/green, this knock box can quickly liven up your espresso set up.
This knock box does not have a metal inner for its bar but is made out of extremely tough ABS plastic.
A nice, medium-sized, simple, easy to clean design can easily hold up to 10 used coffee pucks.
It also has a 'non-skid bottom gasket' for counter protection.
The Makawer Shock-Absorbent Coffee Knock Box is a no thrills, low price point, perfect solution to a simple problem.
Compact, easy to clean and dishwasher safe, this knock box does everything you need, whilst still having decent enough puck capacity for regular home use.
Another one of the smaller knock boxes on our list can be stashed away when not in use or placed on an espresso machine drip tray if needed.
The Crema Pro Coffee Waste Box Knock Bin is a compact, dishwasher safe knock box that has a little more style to it than some.
Its knock bar has the stainless steel core exposed on either end, giving a nice contrast to its all-black design.
It is another knock box that can easily be put away to save space or can sit happily on the drip tray of your espresso machine when not being used.
Coffee Knock Box Buying Guide
A coffee knock box is an important part of the espresso preparation workflow. Without one, you may be adding extra steps to your morning routine, and creating problems that can easily be resolved by adding a knock box for your espresso set up.
This buying guide is here to help you understand your needs, and know what to look out for when scouring the market for your new coffee accessory.
Capacity
When you consider the size of the knock box you are purchasing, one big factor will be how much used coffee grounds it can hold.
The bigger the bin, the less you will need to worry about emptying the box after regular use.
Consider the size of the household and how many people are using the espresso set up. If there are several people making espresso, or if you host any kind of get-togethers where you want to be comfortable pulling multiple shots without having to take a trip to a dust bin or compost container, moving towards a medium to large capacity knock box is probably a more sensible option.
If you are a home barista who likes to brew coffee with paper filters like v60 or Moccamaster and want a space that's comfortable holding the used grounds from your filter coffee, then a larger capacity may come in handy here too. Moving away from just a knock box and towards a designated 'coffee bin' should be something to bring into consideration.
Size
The size of a knock box can be looked at in a couple of different ways. Some large knock boxes are designed to stand on the floor, instead of taking up kitchen counter space. This style of knock box is generally more suited to commercial use, but if you are scarce on counter space and have room on the floor near your espresso machine, the taller unit could suit you.
A small knock box is very easily stored away out of sight or on your espresso machine's drip tray when not in use. This can be a great space-saving technique for a lot of people's home espresso set up.
The second way we need to look at size is how large the knock bar is on the knock box compared to the size of your portafilter. A full-sized 58mm portafilter may end up causing mess if being used on smaller knock boxes, as the puck gets knocked back out of the box when the opening isn't big enough.
The smaller sized openings on knock boxes are more suited to a portafilter that measures 53mm and under.
Colour options
Some companies offer more fun and eccentric colours, which can help brighten up your coffee nook.
When kitting out our home espresso set up, a lot of us look for a matching aesthetic. Black seems to be the most standard finish for knock boxes, with stainless steel a close second. These are the two main finishes you'll find with most home espresso machines.
Material
The material used to produce knock boxes can vary depending on the manufacturer. If a company uses a lower quality plastic you may find yourself with cracks after regular use and occasional dishwasher cleaning.
Spending that extra cash on a better quality knock box can save you from having to make a second purchase in the future.
The final material we need to think about is what the knock bar is made out of. You'll often find knock bars that are made from hard-wearing plastic, whilst others hold a stainless steel core.
The stainless steel bar will help keep the knock bar feeling a little more sturdy, and as long as there is good quality durable rubber on the outside, you won't have any troubles. The issue that can come up is after regular use, and being hit a little too hard, the metal can start to break through the rubber, which in turn will need replacing before it starts to damage your portafilter and make a horrible loud noise when knocking out a puck.
Keep an eye out also for products that have an anti-slip base. This will ensure the knock box stays in place while in use but will also help protect your benchtop.