Coffee storage is a topic that has been debated greatly. Many experts and coffee lovers agree that one of the best ways to store your coffee beans is by using a purpose-built coffee storage container.
Coffee canisters come in a variety of sizes and materials. They help block UV rays, prevent oxygen from reaching your coffee, and often include a seal or c02 valve that helps release carbon dioxide from the inside.
In the following article, we round up our favourite coffee canisters on the market to help you find the best storage solution for your whole or ground coffee beans and enjoy fresher coffee for longer.
Fellow is one of the most respected names in the world of coffee accessories. Their products are known for having beautiful, minimalist designs while remaining highly functional.
The Atmos canister comes with an integrated pump that serves as an indicator. In order to activate it, you have to twist the lid until the indicator turns green, which means that the airtight function is working properly.
Once you are ready to use your coffee all you need to do is press the button on the lid in order to release the seal and let the carbon dioxide escape. This canister comes in both glass and stainless steel that prevents sunlight from reaching your beans. It also comes in three different sizes (0.4, 0.7, or 1.2 litres).
The Coffeevac storage container comes with a partial vacuum seal and a two-way valve that allows coffee to degas (release carbon dioxide) without letting any oxygen in. To open, simply press the button on top of the lid and pull it upwards.
This coffee canister comes in more than 10 different sizes along with a range of different tinted colours that are designed to reflect sunlight.
One of the advantages of this coffee canister is that it can be used for both dry and wet foods and can hold almost 500g of coffee due to its size.
Perhaps a slight drawback with this option is its construction material. While other canisters are often made from stainless steel or glass, this one is made of durable plastic.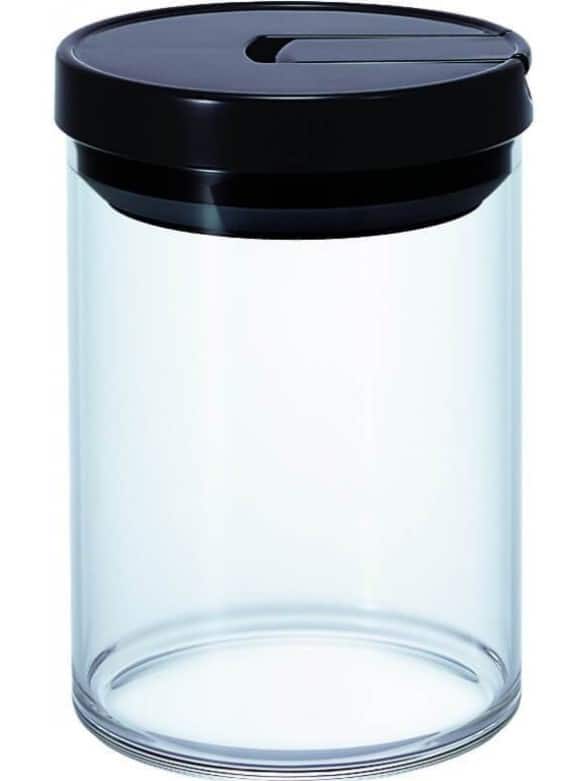 The Hario Bean Storage Container has a simple lever on the lid that makes it easy to access and store your coffee beans with a tight seal.
It is made out of clear glass with a food-safe plastic lid and comes in two sizes: small (300g) and large (480g).
The Hario Bean Storage Container is very easy to use and the clear container makes it easy to keep an eye on your coffee levels. However, the clear glass also makes it easier for light to reach the beans so be sure to store this one in a dark place such as the pantry.
Airscape is a coffee storage container that has both an airtight feature and an air valve that allows carbon dioxide to escape.
This container is made out of white ceramic which protects the beans from sunlight. Some advantages of ceramic include minimal retention of odours, good maintenance of freshness, and stain resistance. A disadvantage is that the material can be a little more fragile in terms of handling.
This canister comes in two available sizes as well as two colours. It is perfect for eco-friendly consumers or those that want to have a coffee canister with a very minimalistic look.
The Breville coffee canister has a capacity of 500 grams. It is made of stainless steel which helps maintain the freshness of both coffee beans and ground coffee, as well as preserve the aroma of both.
The lid is made of durable plastic that works as a seal. The design is very simple, and the can doesn't have an airscape valve which makes it very user friendly.
In terms of size, it can hold quite a lot of coffee so if you usually buy 500g bags or make coffee for a lot of people this option is perfect.
The Coffee Gator Flavor-Saving Canister has a valve that releases carbon dioxide and prevents oxygen from reaching your beans at the same time. This feature allows the freshness in the beans to last longer.
The model comes in grey, black and stainless steel colours and it offers two sizes: medium and large.
A special feature of this canister is that it includes a calendar wheel on top of the lid, which lets you log in either the purchase date, roast date, or expiration date of your beans and reduce waste in the long run. I personally find this feature to be incredibly helpful especially if a bag of coffee tends to last you for quite a while or you tend to forget things easily. The canister also comes with a steel clasp seal and a scoop to help in measuring your coffee.
The Lovello coffee canister is one of the biggest canisters on this list, with a capacity of 1.5L. Inspired by art deco style, this canister comes in grey, white and navy and it is made out of carbon and stainless steel.
One of its features is that it is embossed with the letter "C", for coffee labelling, so would fit in nicely on any kitchen benchtop. The curved lid fits tightly into the base and prevents moisture from seeping through.
The design of the canister is more fitting with a modern kitchen when compared to other products on our list and it has the advantage of holding a lot of coffee so it would work great for bigger households or as a gift for the coffee lover in your life.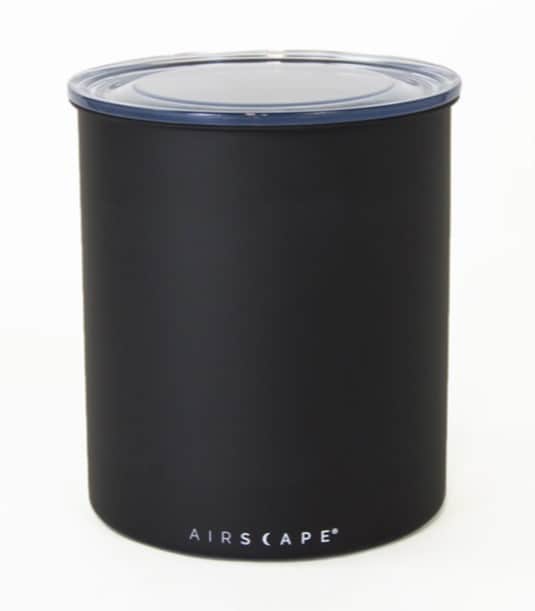 This Airscape canister has a lid that removes and locks out oxygen while forcing the air from inside the canister out, in order to preserve freshness and flavour in your coffee.
It is made out of stainless steel with a plastic lid. These materials help with odour retention and allow you to keep an eye on how much coffee you have left without opening it, while the black exterior helps prevent direct sunlight from reaching your beans.
This canister can hold up to 1 kilo of coffee and has a very compact design which allows it to fit in most spaces.
The Airscape has a mechanism that works incredibly well, however, this might not be the best choice if you're on a budget, as it leans to the more expensive side of coffee canisters.
The Progressive Coffee ProKeeper is one of the largest canisters on the list with a 1.4l capacity.
A feature that separates it from the others is that it is made of tinted UV plastic which preserves the flavours of the coffee while protecting them from sunlight. The advantage of having tinted UV plastic is that you don't have to worry about storing this canister in a dark place. This comes in handy if you don't have a lot of storage space or if your coffee station is near direct sunlight.
The ProKeeper also comes with a tablespoon scoop (15ml) for your coffee that can be stored inside the canister.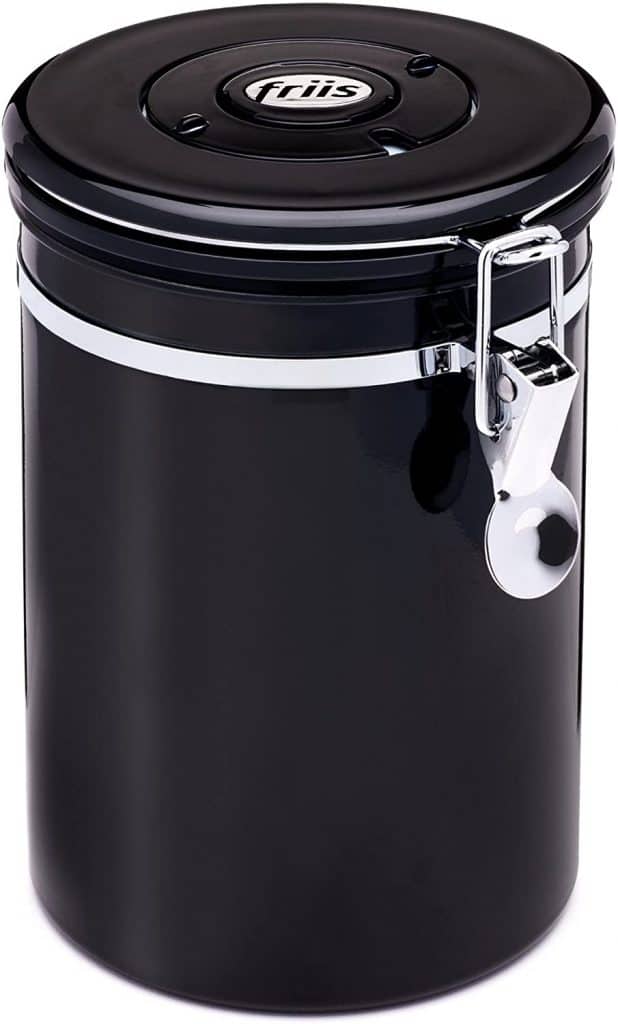 The Friis Coffee Vault has a one-way valve that blocks both moisture and air and locks in the freshness of the coffee. The valve also helps as a mechanism to vent carbon dioxide from the inside.
The Vault is made from stainless steel with a black exterior coating and comes with a measuring spoon. You can choose between two sizes, 360g or 480g, depending on how much coffee you buy regularly.
This is a very simple and classic choice, the canister does not take up a lot of space and it is in the mid-range in terms of price. The Friss Coffee Storage Vault also has a one-year guarantee.
Coffee Storage Tips
If possible, use a container that is either black, made from stainless steel, or has UV protection in order to keep the sunlight away from your coffee.
Airtight containers always work best. If you have one that has a vacuum seal, even better.
It is okay to store your coffee beans in the fridge or in the freezer as long as they are in an airtight container. However, unless you live in a very hot climate, a dark cupboard is your best bet.
We always recommend buying smaller amounts of coffee so that you can consume them while they are fresh. This prevents storing your coffee for longer periods.
Whole bean coffee stays fresh for longer. Try to grind your coffee beans right before you consume them.
RELATED: The Best Way to Store Coffee Beans
Coffee Storage FAQ
Do vacuum canisters work for coffee?
Vacuum canisters work great for coffee for two main reasons: they take the existing air out of the canister and prevent additional air from entering. When it comes to coffee bean storage, preventing the beans from coming in contact with air and moisture is crucial in order to keep your coffee fresh.
Does freezing coffee keep it fresh longer?
This is a wildly debated topic. While some tests show that freezing coffee can help keep it fresh for longer periods of time, we always recommend buying small quantities of coffee and consuming it within three weeks of the roast date. This helps prevent storing it for more time than necessary. If you do want to freeze your coffee, use an airtight container in order to prevent external odours from reaching your coffee and always use fresh coffee beans.
Should you refrigerate coffee beans?
There is some evidence that refrigerating ground coffee in a vacuum-sealed bag preserves the quality of the beans for longer. However, having your coffee beans in the fridge can cause air and moisture to reach your coffee faster. We recommend using an airtight coffee container, which might help prevent temperature changes inside the coffee. Temperature changes generate moisture and reduce the life span of your beans.
Can you store coffee in a Mason jar?
Using a mason jar to store coffee beans is a good approach if you do not have a vacuum-sealed coffee canister. Mason jars have an airtight seal that prevents moisture from reaching the contents. One of the things to take into account is that some mason jars can't be kept in the freezer or in the fridge for long periods of time because the glass might shatter. Make sure you leave your mason jar in a place that doesn't have direct sunlight.
How long can a coffee last?
Coffee can last for up to nine months but we suggest not waiting any longer than six months. Ideally, you should consume your coffee during the first three weeks from the roast date to keep the coffee beans as fresh as possible. Ground coffee lasts less than whole beans, so it's always best to make sure you are grinding it right before you brew and are using a storage container that has an airtight seal.